Naturkunde Netz Bayern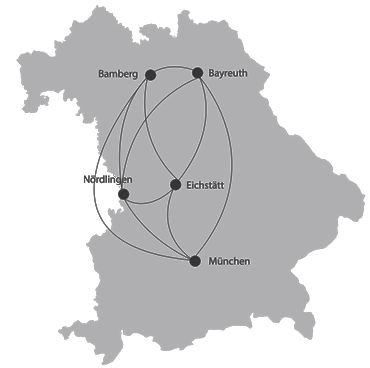 Builing up a natural history network for Bavaria: Since 2015, the Bavarian Natural History Collections have expanded their offerings in natural history education as well as their regional geoscientific and bioscientific research. With additional staff and material resources – financed by the "Heimatstrategie Bayern" – scientific projects, but also the museum education of natural science content in the four regional museums in Bamberg, Bayreuth, Eichstätt and Nördlingen are supported.
The network underlines the SNSB's claim to promote scientific research and natural history education throughout Bavaria. The regional museums play an important role in this and also represent the backbone of a comprehensive network for biological and earth sciences throughout Bavaria planned in the course of the current expansion of the Museum Mensch und Natur into BIOTOPIA – Naturkundemuseum Bayern.
---
Members of the Naturkunde Netz Bayern:
Jura-Museum Eichstätt
Naturkunde-Museum Bamberg
RiesKraterMuseum Nördlingen
Urwelt-Museum Oberfranken
Museum Mensch und Natur / BIOTOPIA